Art sheds light on the darkest of times
Samson Adetunji was born in Osun State, Nigeria, in the year 2001. His birth was seen by many. He started making art when he was young, and his interest in the field ultimately led him to decide to make it his career. At the moment, he is attending the Adeyemi University of Education to earn a bachelor's degree in fine and applied arts (AFUED).
His forte is creating emotive images by combining charcoal and acrylic, which enables him to transmit the sympathy and unfiltered feelings of the people he paints. His topics range from animals to people. His goal is to shed light on the planet's innate attractiveness while at the same time giving a voice to a world that is frequently misunderstood, mistreated, and represented inaccurately.
After coming to the conclusion that life is truly just a series of predetermined canvases, he makes it a point to always challenge himself, learn and grow from every experience, and discover art in every situation.
He has participated in a number of exhibitions in Lagos, and his works are in worldwide collections.
The Way I Am
Charcoal and Acrylic on Canvas 121.92 h x 91.44 cm (2022)
We Have Got Each Other's Back
Charcoal and Acrylic on Canvas 121.92 h x 91.44 h cm (2022)
Bright and Beautiful
Charcoal and Acrylic on Canvas 91.44 x 91.44 h cm (2022)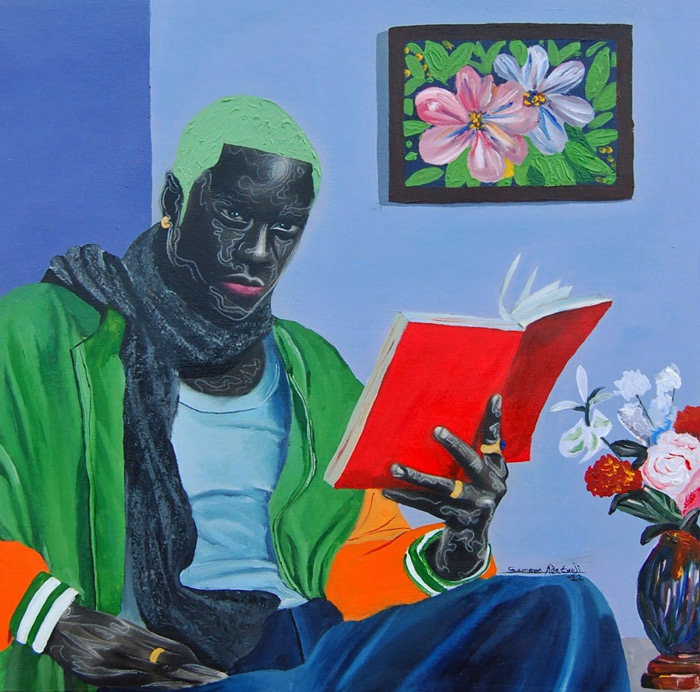 A Sweet Dialogue
Charcoal and Acrylic on Canvas 91.44 h x 91.44 cm (2022)
Bright and Beautiful (II)
Charcoal and Acrylic on Canvas 91.44 x 91.44 h cm (2022)
Precious Flower
Charcoal and Acrylic on Canvas 152.4 h x 121.92cm (2022)
Brotherhood Series
Charcoal and Acrylic on Canvas 91.44 h x 91.44 w cm (2022)