"Life is a series of canvases"

Samson Adetunji primarily expresses himself through acrylic on canvas. In his art, he exhibits a high level of skill. This medium enables him to create expressive works of art that embody his artistic vision. A notable feature in his art is floral motifs that bring a warm and vibrant perception to the artwork. Through his use of bright colors in both the backgrounds and the compositions, Adetunji conveys a positive outlook on life.
Samson Adetunji strongly believes that friendship is one of the most beautiful aspects of life. He notes that "knowing that one can always count on someone else's love and encouragement is one of life's greatest blessings." Notably, his body of work is not exclusively about his mother. However, he credits her with playing a significant role in his life. She has gained his trust over the years and provided unwavering support. "She has encouraged me in my artistic endeavors, and I owe her so much," he says. Samson Adetunji believes that cultivating such emotions is key to overcoming a variety of challenges.
Samson Adetunji advocates for mutual support in building happy and fulfilling relationships. He believes that well-cultivated relationships are essential for maintaining mental health balance and overcoming life's challenges. By creating artwork that reflects his appreciation for the beauty and power of friendship, Samson Adetunji invites viewers to reflect on the importance of relationships in their own lives. Through his work, he highlights the importance of human connections, reminding us that no one can effectively face the world alone.
Francis (More than a Man)
Charcoal, Acrylic & Oil on Canvas 91.44 h x 60.96 w cm (20223
Favorite Moment
Acrylic and Charcoal on Canvas 121.92 h x 91.44 w cm (2022)
Summer Vibe
Acrylic and Charcoal on Canvas 60.96 h x 60.96 w cm (2022)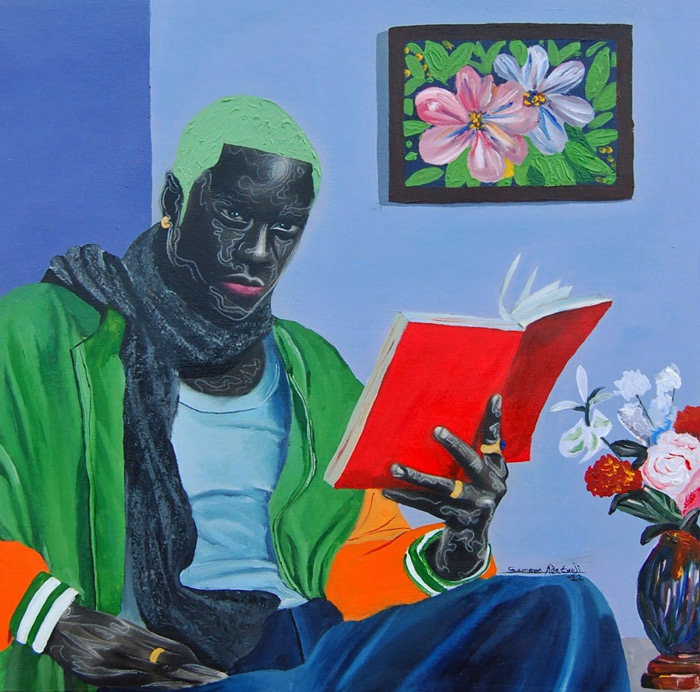 A Sweet Dialogue
Acrylic and Charcoal on Canvas 91.44 h x 91.44 w cm (2022)
We are brothers
Acrylic  and Charcoal on Canvas 121.92 h x 91.44 w cm (2022)
Boy in the Red Jacket
 Acrylic and Charcoal on Paper 40.6 h x 40.6 w cm (2023)
At the Bar
 Acrylic, Charcoal and Oil pastel on Canvas 121.92 h x 121.92 w cm (2023)